Information Required for Green Belt with One Blue stripe - 7th Kyu: Green 7th Kyu Belt Test Info.jpg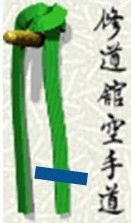 KIHON: Basics:
KATA:
HEIAN SHODAN Kata: Heian Shodan History.JPG
Heian-Shodan Kata and Bunkai performed below are by Karateka outside our system, but are similar:
TEN NO KATA #1-#4:
Go to our Ten No Kata Page to see more Details:
################################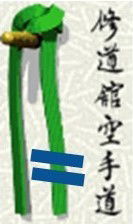 For your 2nd blue stripe on your Green Belt, Repeat all the above plus ---
Adult Students (age13+) complete this part of Green Belt. No stripe on Green Belt for adult.
PHYSICAL: 20 push-ups & 20 V's
TEN NO KATA #1-#10: Go to our Ten No Kata Page to see all the Details:
Kihon for Novice Students: https://youtu.be/9VjsEvhSvi0
KUMITE: Techniques back and forth, include punches, more blocks and front, round & side kicks. Wrap up while shifting your stance to block, then counter.